High-flyers of CD Projekt. From the communist Poland to the world's gaming valley
Swappers such as S.S. Captain learnt from hackers and pirates how to violate game security, how to make games on their own and how to turn a profit on them. The flax-board-covered computer bazaars of early capitalism gave rise to those, who are shaking up the entire gaming industry today. With CD Projekt, a symbol of the Polish gaming power, among them.
19.07.2021 8:33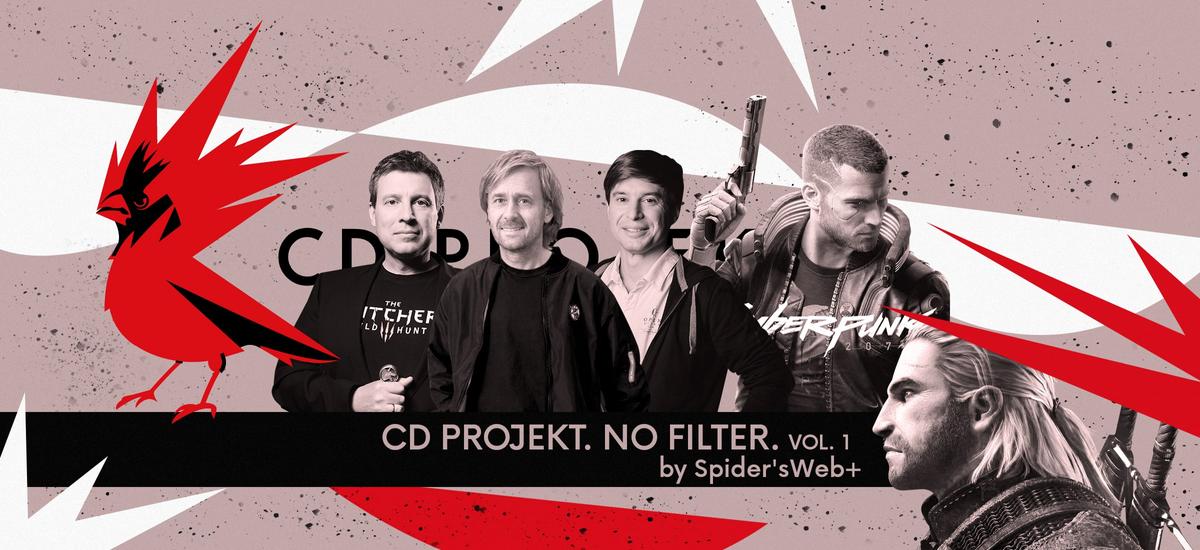 Even today, the boundaries of Warsaw's districts of Żerań and Praga look like they are the city limits. Along the busy Jagellońska street leading out of the city, there is a long (as long as this sentence) stretch of multi-storey buildings, whose shape and architectural style go back to the very heart of PRL, a communist era Poland was stuck in by 1989. The front façades covered with faded yellow paint and a row of small windows resemble the seats of stiff public institutions. It is hard to clap your eyes on anything as you walk down Jagiellońska for hundreds of meters. Until a red bird appears on one of the buildings. A characteristic logo with a northern cardinal is overlooking the gloomy surroundings.
And it is just a while before it gives the place even more character. Because, with the stubble fields for now here, and as cheesy as may sound, a San Francisco is being planned. San Francisco in literal terms, as the company watched over by the redbird (as the Americans have it) is CD Project. And its board has decided to put up a campus on the post-factory area, modelled after the tech-giants of Silicon Valley. That is why, in the autumn of 2019, the gaming tycoon bought a building complex in 74 Jagiellońska Street. Including the premises it has rented for twenty years and some adjacent property at 76. In all, CD Projekt has 24,000 sqkm here.
The size is obviously nothing compared to Googleplex in Mountain View. The buildings are overlooking chimneys of a nearby co-generation plant, and not beautiful mountains. Still, the plans are flying high. The neighbouring plots and buildings are to be connected. A big, green area with an underground parking lot is being planned (for cars not to spoil the outside view). "It is supposed to be an amusement and leisure park of sorts. Lots of greenery, benches, outdoor canteens. Playing fields and training ground will come as no surprise to me. And the elements from the worlds of our games, of course. The company has not yet announced it, but many of us already know the plans", says an employee of CD Projekt.
Dolina Redów [Valley of the Reds] in Warsaw's Praga district sounds almost as fantastically as a plan for a game distributor operating for a few years only, to create its own game, hitting the global market right away.
Which is exactly the case of "The Witcher", which made CD Projekt a major player and gave Poland the last hope to become an industry of games made not only as a product, but mostly for the love of playing.
To achieve that, the Polish gamedev went through almost four decades of a rampant growth. From a fledgling curiosity somewhere on the outskirts of the capitalistic world to one of the most resilient creativity hubs in the world's gaming. CD Projekt is one of the pioneers of the transformation and its symbol, yet not the only one. All of Poland's giants of today started off when the whole country was covered with stubble fields.
The mid-1980s. Poland is under a communist rule, the country is controlled by the Soviet Republic. Travel abroad is severely restricted - getting a passport is almost a miracle. There are only two channels on TV, both state-controlled, airing government propaganda. Empty shop shelves, rationed goods, and the average salary is 25 dollars or so. One dollar is around a bottle of pure vodka or two to three loaves of bread. It is when, in one city after another, places bursting with youthful energy, a desire for technology and dreams of the rich West emerge. Computer bazaars. Meeting places for computer freaks to swap pirate copies of games and software. At that time, the Polish legislation is missing anti-piracy practices, so no one is concerned about the consequences, and pirate copying is on a massive scale. 
It is believed that at the very bazaars, in the 1980s, still in the midst of the red communist Poland, the Polish gamedev came into being. Still, it is not the whole truth. Most probably, the oldest Polish game is "Web Master" of 1983 modelled on Pac-Man by Jerzy Dybski, Piotr Bednawski and Jarosław Wyżygowski. Ever more games were being created over time. Youngish device owners studied computer magazines and the scraps of information brought from the West.
From 1986 on they had a new way to get the games: radio recording. Over the airwaves of Rozgłośnia Harcerska [Scout Broadcasting Station], in "Radiokomputer" programme, Tomasz Jordan would broadcast a code which, once recorded on a cassette, would become a video programme or game. Jordan died a long time ago. "That was horrifyingly hilarious up to 25 minutes of harsh noise. Such sounds as if a computer was being connected to a modem at the dawn of internet era", this is how Paweł Sito, Jordan's fellow editor, remembers the broadcast. Grzegorz Zajączkowski, today a Digitisation Leader of the European Commission, thirty years back a teenager hungry for games, adds: "You would sit down, put a cassette into a recorder and record. Week in, week out."
However, the business around the fascination started only with the computer bazaars. Wide school corridors with pupils' desks full of stuff along them. Cardboard notices above the desks saying: "Amiga Games Second-Hand Demos", "Service Descriptions Programmes Repairs", "Games - New and Brand New". And the dealers at the desks. Looking like their customers, as if they went to the same school. There are numerous views of 14-year old offspring managing a stand the parents are also working at. The child makes copies and explains the contents of cassettes and disks, they handle the turnover.
"Those were quite guerrilla days, but the time was like a gateway to heaven for us! The latest and second-hand games were always to be found at the bazaar, and sometimes even demos on ZX Spectrum. The truth is, at the beginning it was just a collection of music themes taken from the games that accompanied some movements on the screen. But this showed us we could actually make something" - Rafał "Raf" Wiosna, a coder and a regular visitor at the bazaar at the 25th Primary School in Warsaw, Grzybowska Street, goes back to the old days.
The bazaar is believed to have been the first one, established by "Bajtek", a computer magazine. In fact, it was not the first, but the largest. That is where the dealers would get their stuff and take it to other cities. Before the bazaar in Grzybowska Street, computer enthusiasts would meet at the "Stodoła" club bazaar in Batorego.
Still, in the summer of 1986 it was supposed to be shut down. And then a new one suddenly emerged. At a primary school. 
It was established by Jan Popończyk. This is how he recalls the old days: "I was going by train from Warsaw to Łódź, to Poland's first computer shop, with my cousin and a friend. I was telling them about Stodoła and the school no. 25 which housed a stamp market and where I know people. The friend listens in and finally bursts out: 'If you know them, why don't you open up a computer bazaar there?'

"Although there was crisis growing far and wide the communist Poland, the bazaar was in a bull market for years, with turnover and profits rising every week. A teenager would earn more over a weekend than their parents over a quarter of a year. For many dealers, and let me remind you they were often very young people, that was the first money in their lives they made working", says Popończyk. It is him who arranged it for "Bajtek" to take over patronage over the bazaar, which later gave rise to the illusion the bazaar belongs to a computer magazine.
When the Grzybowska bazaar comes into being, the leaders of today's gamedev are kids. Still, they are already attracted to the place. Paweł Marchewka, born in 1973, is a high school student when he begins travelling from his small hometown of Ostrów Wielkopolski to Wrocław's bazaar located in a university canteen in Smoluchowskiego Street. He buys the games, first distributes them over Ostrów, then the neighbouring towns and, over time, further beyond. Finally, he has to "take on" two classmates, as he simply doesn't make it himself anymore.
In Wrocław, the capital of Lower Silesia, he buys the games from dealers with Adrian Chmielarz, born in 1971, selling games for ZX Spectrum, among them. A game he created, "Erotic Fun", with the name as simple as the "game" itself, hits the bazaar for a while. It is an image with a scantily-clad woman switched between two frames with a keystroke.
The boys themselves go to Warsaw, Grzybowska, to get the new games, as this is where the novelties from the West are first shipped. Among the sellers are Michał Kiciński and Marcin Iwiński. They are high school classmates, too. They go to Tadeusz Czacki High School, born in 1974. Kiciński was 12 when he racked up for his first Atari. He got a joystick and a cassette player from his neighbour who worked at Karen, a Polish distributor of Atari and.. a game developing firm. So, he listens to the "Radiokomputer" broadcast and records games on tapes.
Iwiński knows what the West is about. His father is a film maker and brings him from abroad ZX Spectrum which he will soon replace for Amiga. He made his first business contact with a man from Greece. It was thanks to an announcement in "Your Sinclair", a British magazine. The man sent him the games in a postal letter and he rushed to the bazaar where he made his first dollars.
They manage as best they can. Some lay out the stuff on school desks, others have folding tables and a tent, just like Michał Kiciński. And those who have already made some money, are folding up the popular tin market stalls, so-called "szczęki" ["jaws"]. "People, and in fact the kid computer fans from all over Poland, knew one another. I say 'kids', because we were 15-16 or so at that time. We were all like such film nerds. We wanted more than just buy games. We also wanted to improve and develop them. It is just because they were scarce and low quality. To develop a game, you have to learn how to programme", recalls Grzegorz Zajączkowski, born in 1975, a dealer at the Wrocław bazaar.
But there was not much anybody to learn from, so they started off by learning from each other. Such was the beginning of the demoscene.
"Again S.S. Captain. Again of Katharsis. Again the No. 1 in Poland and again with a new import/of co2!/. Mini intro by Raf. Wonderful tune by Martin Galway. Font/logo by Jerry. Why the Polish scene is so boring??? ; no copy parties. No cool demos. No quality groups with quality stuffs etc. Its' a big shit! isn't it???", writes one of the most important swappers. They are couriers of sort, who swap and distribute copied software.
The above message was placed by S.S. Captain in cracktro which is displayed at the beginning of a game compilation for Amiga. It is also some kind of a digital signature. Drawing attention: "It was me who violated the game's security! We are the best, others are crap!" It is 1991. The 17-year old S.S. Captain is one of the best, indeed. People all over Poland have floppy discs with his games. Where did he get them from? First, he has been trading in Grzybowska for two years. Second, he is an active member of demoscene. He is so much engaged that he travels to demoparties, parties for computer enthusiasts. Also abroad.
As follows from an account of his 1991 trip to Budapest published in one of demoscene magazines, he gets the invitations "normally from a few contacts at a time". It was written by another member of the community, a musician and a graphic designer, Mr Root, today a renowned club DJ Robert Korzeniewski, a Malta dweller in everyday life. He was 18 himself at that time. This is how he recalls a typical demoparty evening: "We were invited out to a pub by some dudes from TRSI, two rapper-styled Austrians and a few Hungarians. It was fun, beer was pouring down the throats until the payment time came. The two Austrians knocked down fourteen shots of whisky, they were totally wasted and they would not pay their share of the receipt of 6,500 forints. We stumped up for our drinks and took off discretely".
The then state of technology and its users are a good recap of the trip: "I am satisfied because I met some nice people (friendship rules). S.S. Captain is satisfied, because he recorded loads of new stuff (business rules). Jerry is satisfied, because he made new PC contacts", writes Mr Root in 1991.
In the same year, S.S. Captain's father drove him and his three pals to a demoparty. The father supports his son. He brought him his first computer from abroad He is now taking the kids to a demoparty in Porsgrunn, Norway, and bringing them back, quarrelling and, in the end, avoiding a speeding ticket. To Miscolc, Hungary, the boys are going by train, but the customs officers appear to be a problem on the border. They are convinced the Amiga the kids carry is for sale. Organisers of the party in Budapest have to step in.
It is thanks to such trips that S.S. Captain could distribute copied games and software. And boldly advertise on cracked floppy discs. The way he does in here (original spelling and punctuation): "Do you want to have all the new: games, demos, second hand??? Forsure you do !!! So, don't waste your time and contact the best importer in Poland !!! You can read the address and telephone details above !!! No, I am not engaged in tcharity, but I offer low prices and send quickly !!! So, what else is there to consider???? One more thing! If you want to call me, it is best to do so in the late evening !!!".
And his particulars in English followed: Martin Iwinski/S.S. Captain/KTS, ul. Łukowska, 04-113 Warsaw, Poland. Or simply call 13 85 37/ In Warsaw of corz!!!
– Marcin Iwiński? Surely, we knew each other. Everyone knew S.S. Captain - recalls Zajączkowski. The S.S. acronym derived from Star Ship game. KTS in the address, on the other hand, is a short for Katharsis. "That was a bunch of people who made the switch from ZX Spectrum to Amiga. At the beginning it was me and Mac. Anyway, the name was made up by me, because I liked the word. Sometimes Kicia made music for us. We were joined by Jerry, Andy Brent and S.S. Captain. The last one was a swapper, the then main source of 'warez' on the Grzybowska bazaar, Poland's biggest obviously, from which the stuff was distributed country-wide. Each bunch should have somebody like him", says Rafał Wiosna, born in 1974, who not only coded, but also made the music in Katharsis himself.
"This experience started growing the entire community. Some specialised in music, others in graphics, programming", says Zajączkowski and recalls spending a night in the early 1990s with Adam "Scorpik" Skorupa and Iwiński in a cottage on the Żywiec Lake during a copyparty. "To others, we sounded like aliens. Our talk was like: 'do you have the assembler code to write the whirling cube?'" - he adds.
At the same time, some guys from our community are already turning the occupation into a profession. In 1991 an 18-year old Paweł Marchewka founds Techland in Wrocław. The truth is, it still runs a copied software distribution business, but it is a firm now. The business is going well until a new copyright law is on the horizon. Marchewka decides to start distribution under a free license, which is, perfectly lawful.
In 1992, at the age of 21, Adam Chmielarz, the "Erotic Fun" guy, established Gambit, a firm, with his high school friends, Grzegorz Miechowski and Andrzej Michalak. They trade in hardware and they will soon establish Metropolis - without Michalak anymore. With the money from hardware trading, they start writing games, which is supervised by Chmielarz. A year from starting Metropolis, they release their first game: "A Mystery of the Statuette". Then, the next year: "Teenagent". Both the titles will have become iconic.
Marcin Iwiński, in turn, has at home a USRobotics Courier HST modem, which was the fastest of its kind and rare in those days. Thanks to the modem he also has BBS, a system for sharing files via the then fledgling internet. It is not the internet we all know today. Rather, it is a small network of computer enthusiasts who also share a superior knowledge of the subject. For BBS to make sense, you have to know the number to call. And the telephone numbers to the best sources are not to be found in newspapers. Last but not least, you have to snap into a free line.
"At some point Marcin was the main software source in Warsaw. He had a strong modem and a strong position on the bazaar. I know he also had contacts to the US sources via people from computer newspapers. He was good at what he was doing", says a former dealer from Grzybowska who wishes to remain anonymous.
He was able to get the games even within two days after their debut in the West. However, Iwiński and Michał Kiciński also see that the law is about to change soon and, like Paweł Marchewka, make a switch to legal software. Meanwhile, they discover CDs and, with the first turning point for the gaming industry, that is, the new copyright law of 1994, they establish CD Projekt company. Obviously, the name honours the new futuristic data carrier. Adam, Kiciński's elder brother, helps Marcin and Michał as early was with the first orders. He handles logistics, that is, he arranges for shipment of packages with CDs. Over the years, he will have become the president of the already powerful company.
In mid-1990s, the bazaars lose their momentum. The police raid the pirates. The tax office starts verifying the income. Whoever sensed the change, legalised their business.
For similar reasons, the demoscene is shrinking, too. Poland is opening up to the world and you do not have to scheme by hook or by cook anymore to access the technological novelties. Another lesson begins, and it is capitalism. Bit by bit, leaders emerge who will be building over the years to come what you call today's "gamedev made in Poland".
First problems crop up, too. Techland who released "The Right of Blood" in 1995, has to account for errors right after: Amiga version has three-dimensional levels which are missing in the PC alternative. What is more, Amiga version has eleven levels, and the other one, only five. The company patches the bugs as reported and releases fixed versions. It also happens that the players call the authors directly. Not necessarily to run them down at all times. Just as often with questions how to pass a particular puzzle in a game, because they stand still and don't know what to do next.
CD Projekt is trying its luck at foreign fairs. Over time, they succeed and the first global contracts follow. Being Poland's first distributor of CDs, the company signs contracts with such studios as: American Laser Games, Acclaim, Blizzard, Blue Byte or Interplay. In this way, games in Polish boxes and with Polish manuals hit the shelves, and that is something new. Although, to be honest, another packaging component, i.e. shrink-wrapped boxes, were introduced a few year earlier by IPS Computer Group whose contractors included Electronic Arts.
The market view is completed by Mirage. Its business model involves taking on programmers to write games and distributing the latter. But Mirage is also on the lookout and it signs foreign contracts. Their portfolio is made up of games from Codemasters, US Gold/Eidos Infogrames, Atari and Ubisoft, to name but a few.
Foreign contracts are gained at fairs guerrilla way. First, the Polish gamedev people would board the same plane to fly to the US for a dozen of hours and they would bring the friendly small talk to a close as they arrived. And the race is on - the first to find and convince foreign studios' representatives, the better.
The "contracts", as they were pompously referred to, were agreements for a few dozen to a few hundred copies of a game. No one want to sell more to the Polish market on which pirates are still calling the shots anyway. There is widespread poverty and hardly anyone can afford a computer. Such a condition continues for a few more years. "At the turn of 1990s and 2000s I moved to a new flat and, as was customary in those days, a new inhabitant was visited by a police constable. We are talking and he takes a look around the house and asks what marker-smeared discs are lying next to the desk. I say, those are videogames. And he says, they must be pirate games. And I tell him, they are not mine, sir, not mine! Distributors would quite often have problems with the original games, they reached us only some time after their release. Still, to catch up, they would often be straightforward with us: play and review the 'pirate version' and we will provide you with the originals as they arrive" - says Tadeusz Zieliński, a legend of the Polish gaming journalism.
"I show the policeman that these are CD Project CDs, they distribute it officially and I can play the "pirate" as it only looks like it's shady stuff. It would even happen that distributors told me: download the torrent and review it, because it is still a long way to go before the original arrives. The policeman understood it and left", recalls Zieliński.
At that time, CD Project enters game localization, which is, their translation into Polish. "Ace Ventura" in 1997 was the first one to work on.
The title character is voiced by Zbigniew Borek. He fondly remembers working on "Ace Ventura". "We laid great stress on it and we spared no time. If we had to repeat a scene, we would repeat it forever. In the end, we conquered all the dragons and we reached the desired effect", he says.
However, the real breakthrough is "Baldur's Gate" released in Polish a year later. The help of Stanisław Iwiński, Marcin's father, comes in handy. Currently Stanisław, a renown documentalist, makes a use of his contacts and he helps to catch up with the top Polish actors and sound engineers. "Baldur's Gate" is voiced by the crème de la crème of the Polish actors: Piotr Fronczewski, Krzysztof Kowalewski, Jan Kobuszewski and Marian Opania. Iwiński senior, who is an expert in sound recording and post-production, becomes a director of the Polish version.
The success is undeniable. It is 1998 or 1999. We are on a plane with a huge bunch heading for Los Angeles fairs. Marcin Iwiński shows off his golden credit card. He is the first and only in our group to have one, says a participant of that trip.
Turn of the centuries is the time when the Polish firms have to pivot, much as they do not realise it yet. They continue to grow and their founders reach out to their old-time friends as they look for experts. At Techland, Paweł Marchewka employs a few persons from the Wrocław bazaar. When Iwiński and Kiciński decide to make "The Witcher" sometime later, they will turn to Andrzej "Scorpik" Skorupa to write the music. The same guy with whom they had fun at a demoparty in Żywiec and made demos together.
Still, for now, it is Metropolis that holds the rights to write a game based on "The Witcher". When not much is going on for two years, CD Projekt catches up with Andrzej Sapkowski and they buy back the rights to make it. Sapkowski himself does not remember the meetings with young entrepreneurs, but he recalls the very atmosphere: "I don't deny they greatly influenced my perception of the, as you put it, "gaming industry" and the industry representatives. Let me put it this way: I grew prejudiced a bit. I will not go into details", he answers the question vaguely.
Meanwhile, IPS Computer Group and Mirage merge, only to merge with Czech and Slovak companies a few years later. This is how Cenega comes into being. Distribution is not such a sure bet anymore. That is why, entering game development is a natural cause of events for CD Projekt.
All the more, others had been doing it for a few good years then. In 2000 Techland releases "Crime Cities". Well ahead of the debut, the game wins best graphic design award at the Intependent Games Festival. It was a party which later became the most important award for the market of independent games. Metropolis releases "Gorky 17", an iconic game (especially in the East), and Adam Chmielarz leaves the company. In 2002 he establishes a new studio, People Can Fly. Two years later he releases "Painkiller" which is received very well.
21st century begins and the veterans of the Polish gaming industry are in their early 30's. That is yet another turning point. Most of them will have become millionaires over the few coming years. CD Projekt was the first one to get to the top. What will help, is the close bond they have with their fans who treat the company like their own.
"In the West, the approach to games was utilitarian, just a game in a box. CD Projekt, in turn, built an unboxing culture, offering rich content around the game itself. Such was the case of, e.g. Gothic 3, collector's edition. The box was in the shape of a magic book bound in genuine leather (quite a no-go today for eco reasons) imported somewhere from Italy. You had to wrap the game inside and accompany it with a letter to the player with Michał's handwritten signature. That was a great idea, also marketing-wise. It did not pay off that much financially, though, as the manufacturing costs were so huge, the profit was negligible", says Michał Gembicki who joined CD Projekt in 2006.
When "The Witcher" was out in 2007, its demo was an insert included with "Gazeta Wyborcza", the largest opinion maker daily in Poland. There are thousands of copies sold and CD Projekt comes out to the top. Frankly speaking, there are problems with ill-printed packagings of collector's edition. Still, Michał Kiciński is "awfully sorry" on Gram.pl (which was then owned by CDP), he promises to mend their ways and points out that the bugs will be patched. The reviews are rather favourable: as much as 9.7 at Metacritic, although the reviewer journalist granted 81%. However, what starts in fun, ends in tears.
As Marcin Iwiński mentioned at a meeting with fans at Przystanek Woodstock [the Polish Woodstock Station festival] in 2015, after the first release of "The Witcher", both him and Kiciński believed they were supermen, they could do anything and a lot at a time". But a little while later came the global crisis of 2008 and you had to pack it in. Iwiński refers to the period as "one of the greatest life and business dramas". Every morning, every look in the mirror was a challenge. 
At that time Techland confronts reality with its "Dead Island" game. A superbly edited three-minute trailer is sweeping around the world. The American media report on the best trailer in history, but the game is not there yet. Half a year later it turns the expectations far outweighed the final effect. The trailer definitely varies from the very gameplay and the game is poorly rated both by the players and the reviewers alike. The will only bounce back after the first shock.
As the 2010s were a real golden age for the Polish gamedev. Their beginning marks a transformation of the former bazaar dealers into fully fledged business people. Still wearing t-shirts on a daily basis, but with millions on their accounts and inclinations for the professional market - a stock exchange market. No wonder as the budgets amount to tens of millions of zloties.
With its global, downright staggering stroke of success, CD Projekt continues its witchery series whose part three takes it all and the company itself becomes one of the major world players.
Success is nothing out of the ordinary for Techland, either. The company keeps growing game after game. The four-part series of "Call of Juarez" (the first came out in 2006) sold 3 million copies. In 2011 "Dead Island" is released and in spite of a cold reception it reaches 7.5 million copies with part two combined. Finally, 2015 comes (the very year of "The Witcher" debut) and the release of "Dying Light". The adventure horror film based on an open world is welcome by 20 million players. That is the third top ten in the world when it comes to the ranking of best-selling games in history.
Former employees of the acquired Metropolis company, who had left CDP a few years earlier, also make a go. Grzegorz Miechowski with his team under the banner of 11bit studios release "This War of Mine" in 2014. It is a war game, all the more unique that the player does not impersonate a soldier, but a civilian. This unusual storyline perspective is rapidly gaining fans. The Company breaks even within two days. It gets only slightly worse when "Frostpunk" is released four years later. Sales revenues outweigh production and marketing costs within three days.
There are five producers listed currently on WIG.GAMES, the [Warsaw] stock exchange index. In spite of huge declines in the previous months, CD Projekt enjoys the highest valuation. Its value (as at 23rd April) exceeds 17.07 billion zloties [4.51 billion dollars]. For comparison, Ten Square Games is valued at 3.3 billion zloties [872 million dollars]. It is quite a young company as it was founded in 2011. Its core business is mobile game development and it employs more than 300 persons on a daily basis. PlayWay established in 2011 which releases medium- and low-budget games for PCs is not valued much lower, either. Its stock exchange value is almost 3.2 billion zloties [845 million dollars].
The earlier mentioned 11 bit studios also exceeds the magic billion zloties mark (PLN 1.23 billion ~ USD 325 million). And last not least CI Games (PLN 252 million ~USD 66.5 million), a company owned by Marek Tymiński, who also started off at the Grzybowska bazaar. Techland is not listed, although the company has been announcing its IPO for a few years now.
Teenagers from the computer bazaars thirty years ago not only took over the business. They developed it from the start in their own image, often contrary to how the gaming industry operates in the West. They were also able to learn about the free-market and capitalism more quickly than the rest of the citizens - as early as the end of the 1980s.
Paweł Marchewka established his firm earlier than Iwiński and Kiciński. He also began developing games earlier on, at Techland. However, it is CD Project people who are considered to father the Polish gaming industry.
"It's like the rat and hamster joke. One day, the rat asks the hamster - 'Why is this so, you have fur and so do I, you have a tail and so do I; people love you and hate me?' The hamster says - 'Just because your PR is bad', says laughing Michał Bobrowski of GRY-OnLine SA. And then he adds: "It is rather easy to guess who is the hamster and who is the rat in this anecdote". At least, who has been the favourite rat only until recently.
"Thanks to the success of "The Witcher", Poland is now such a small land of milk and honey when it comes to making videogames. It is abused by many businesses, like the makers of some sort of falling leaves simulators. If it is the Polish gamedev, it has to be something good, you know", says Ryszard Chojnowski, a former CD Projekt manager, his voice heavy with irony.
The position of Polish developers in the world in undeniable. Their fans are playing "Outriders" by People Can Fly, waiting for "Dying Light" by Techland. Plus, add-ons to "Cyberpunk 2077" which are to make the game a product fit for the swaggering promises.
Even Andrzej Sapkowski admits today that his judgements of the industry those 20 years ago were a bit exaggerated. "Please provide at least one statement which would show a disregard for CD Projekt Red and the games by CDPR. An original and not made up, second-hand or third-hand statement. Spare yourself the trouble searching, you won't find any", he assures in a style typical of him.
"That I don't play the games myself you will find cynical? Please be informed I do not eat scrambled eggs. Will never touch it. You may, as you please, call it emotional cynicism with respect to hens, roosters, and a denial of the entire poultry industry in general. And I say: de gustibus non est disputandum. On the other hand, there is a group of players who are preoccupied with playing, do not read and despise the written word. I do not particularly think much of them to be honest. And sometimes a snappish remark may just slip out. Which I am hereby sorry for", emphasises Andrzej Sapkowski when I ask him about the cynical attitude to the gaming industry and a resentment towards "The Witcher" game.
But the computer bazaar guys have recently been sorry much more often, time and again. End of 2010s. The players no more consider them as buddies, but as businessmen in their 40s who, much as they are still wearing sweatshirts and t-shirts, should deliver a product as perfect as they claim it will be. And when they employ authors, the employment terms should be fair and equitable.
And so, when the first "The Witcher" came out, the fans were indulgent to the game being full of defects and they just waited for them. And with "Cyberpunk 2077", the game was literally smashed on its release. While gamedev would for long tolerate crunch as an HR management method, today Techland has to account for the accusations regarding chaotic employee handling, overtime dragging on forever, and nepotism.
And in their brand new strategy, CD Project says more about remedying the working system and the employees' well-being than the plans for new games. For the time being, however, the work never stops at the seat of CD Projekt in Jagiellońska. Not only on further patches, but a new campus, too.
Publisher: Jakub Wątor

Editor:
Sylwia Czubkowska
Authors: Jakub Wątor, Sylwia Czubkowska, Marek Szymaniak, Matylda Grodecka
Translation:
Anna Matysiak-Janowicz
Photos (in order): Red Bird on Jagiellońska Street, fot. Grand Warszawski/Shutterstock,
Grzybowska Bazaar, Marcin Kiendra
Bazaar in the 90s., Marcin Kiendra
Techland and CD Projekt print ads, Marcin Kiendra,
Marcin Iwiński at Game Developers Choice Awards, 2016 fot. Wikimedia
Building renovation at CD Projekt HQ, fot. Jakub Wątor
Photos on graphic: CD Projekt,
Adam Tuchliński/ www.tuchlinskistudio.com
Artwork: Patrycja Lewandowska www.intocollage.pl